Objects of the month
The 'Rocket Type' Washing Machine
This "Rocket Type" washing machine was made by local wheelwright and craftsman Moses Morley of Cropton in the early 1900s and was kindly donated to the museum in 1988 by his family. Before the inventive zeal of the Victorians, washing was often reliant on long processes of rubbing, pounding and rinsing and depending on the severity of stains, bleaching and boiling. A key aspect of this machine is the noticeable space in the middle where a wash load would have been placed. The machine would then be rocked to create a vertical motion. This had the desired effect of agitating wash and water without causing damage to materials, especially cloth. This machine would have cost £2 20d which would be about £200 today. For an extra £1 10d you could add a wringer. Until 1920 most machines, including this one were made of wood. The first electric washing machine was produced in 1907 but it wasn't until 1937 that a patent was issued for the first front loading machine that we recognise today. Our museum documentation lists this as a Rocket washing machine, but we have found other examples where they are called Rocker washing machines. Have we recorded this wrongly, is it a play on words, Rock-it, or did Moses Morley name it to stand out from other machines? What do you think? Morley's washing machine can be found as you go up the staircase just past the cobblers.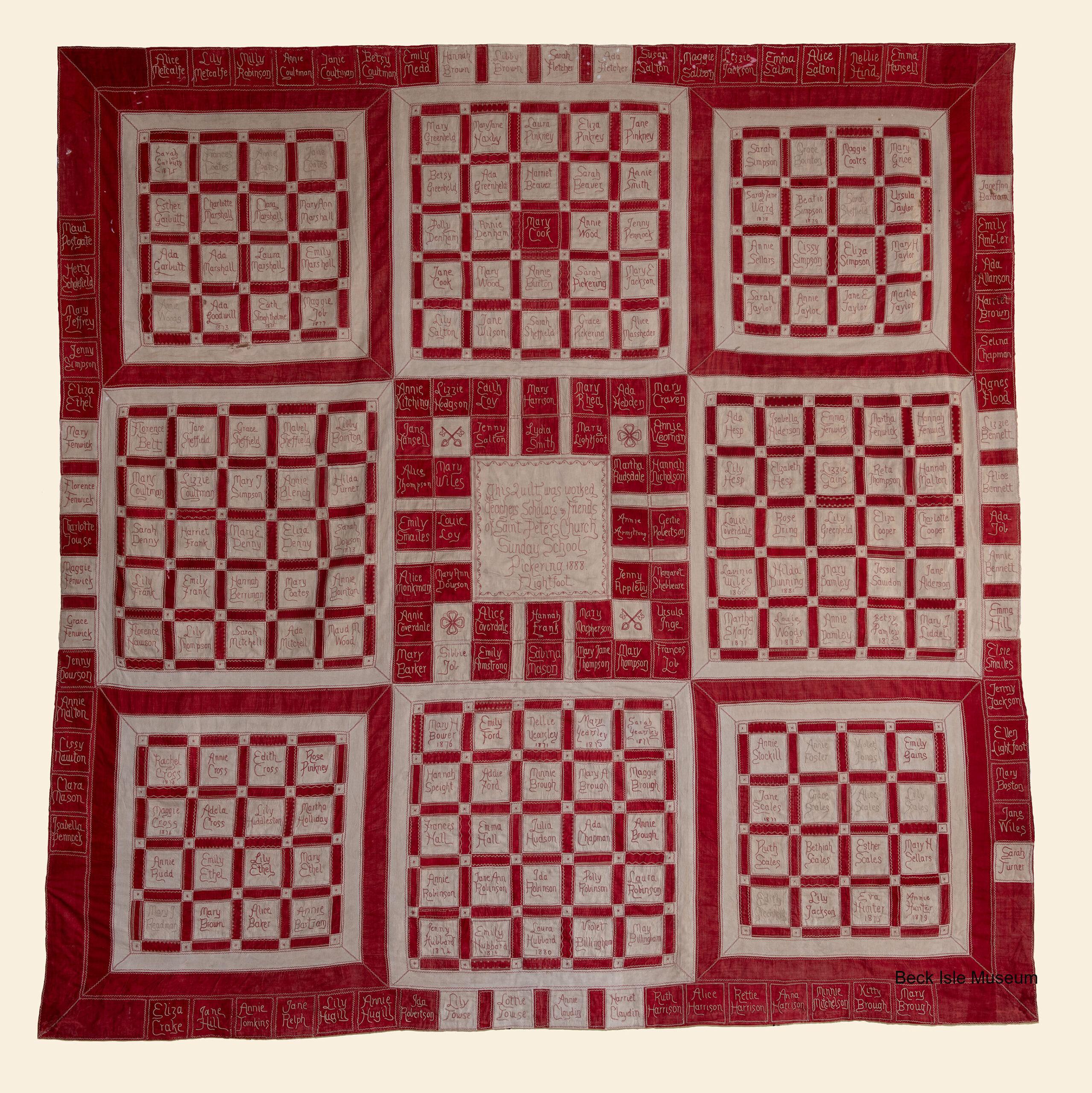 Pickering Sunday School Signature Quilt
The Signature Quilt is one of the most interesting local history objects in the collection. It was 'worked by Teachers, Scholars and Friends' of St Peter and St Paul's Church Sunday School in Pickering, under the supervision of Frances Lightfoot, the wife of the Reverend G. H. Lightfoot, Vicar of Pickering. It carries the embroidered names of 255 of the 'Teachers, Scholars and Friends' of the Sunday School in 1888. The names are embroidered on squares of Turkey red calico and white calico, bordered with a wide variety of embroidery stitches. One of the 255 names on the quilt is Annie Tomkins, who worked as a maid for Reverend and Mrs Lightfoot and when the Lightfoot's died, Annie inherited the quilt. It was passed on to Annie's daughter who later donated it to the museum. Signature quilts (often called bazaar quilts) were a particular phenomenon of the 19th century. Often made to raise money for a church, chapel or charity, they were embroidered or signed either by, or on behalf of, the person contributing a sum for the privilege of having their name associated with the quilt. The Signature Quilt was taken off display in 2018 so it could be cleaned and conserved and photographed. Due to its age and condition it will be displayed in future for short exhibitions, it is available for study purposes by appointment. Please do get in touch with the Collections Manager if you would like to see it.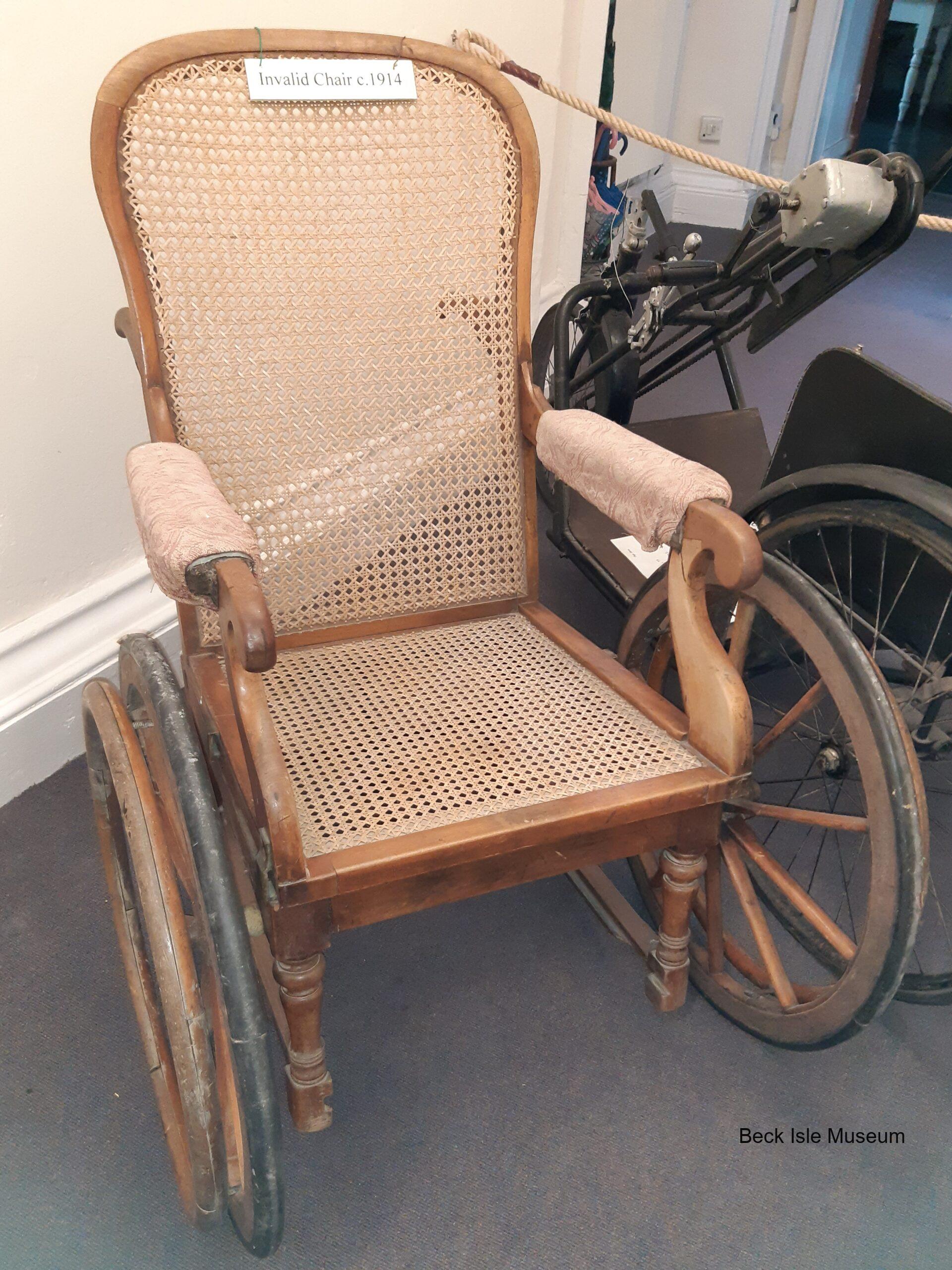 Self Propelling Chair
This self-propelling chair came to the museum in 1994 from a family in Aislaby. There had been previous chairs on wheels but they relied on an assistant to push. This was the first time the occupant could be independent and get about on their own using the large front wheels. The name 'Merlin' comes from John Joseph Merlin the inventor of the self-propelling chair. Born in Belgium in 1735, he moved to England in 1760. He was a talented man and worked with James Cox on his clocks and automata including the Silver Swan now at Bowes Castle Museum. He invented many things including the self-propelling chair and roller skates! He was known by his contemporaries as 'Mr Merlin , the Mechanic'. It has a directional castor wheel at the back and two large front wheels with rubber tyres and an inner handrail for the occupant to be able to control the movement of the chair. There are folding handles at the back for an assistant to be able to push. There are also metal brackets on the side of the seat frame that poles could be inserted through and the chair could be lifted off the base and the occupant be carried, useful if the terrain was not good for wheels or there were stairs to climb. Unfortunately, the poles and sliding footrest are missing. There is no maker's mark on the chair but this page from a catalogue by a firm called Humphry & Sons Ltd is in the collection at Leeds Museums and looks remarkably like our chair.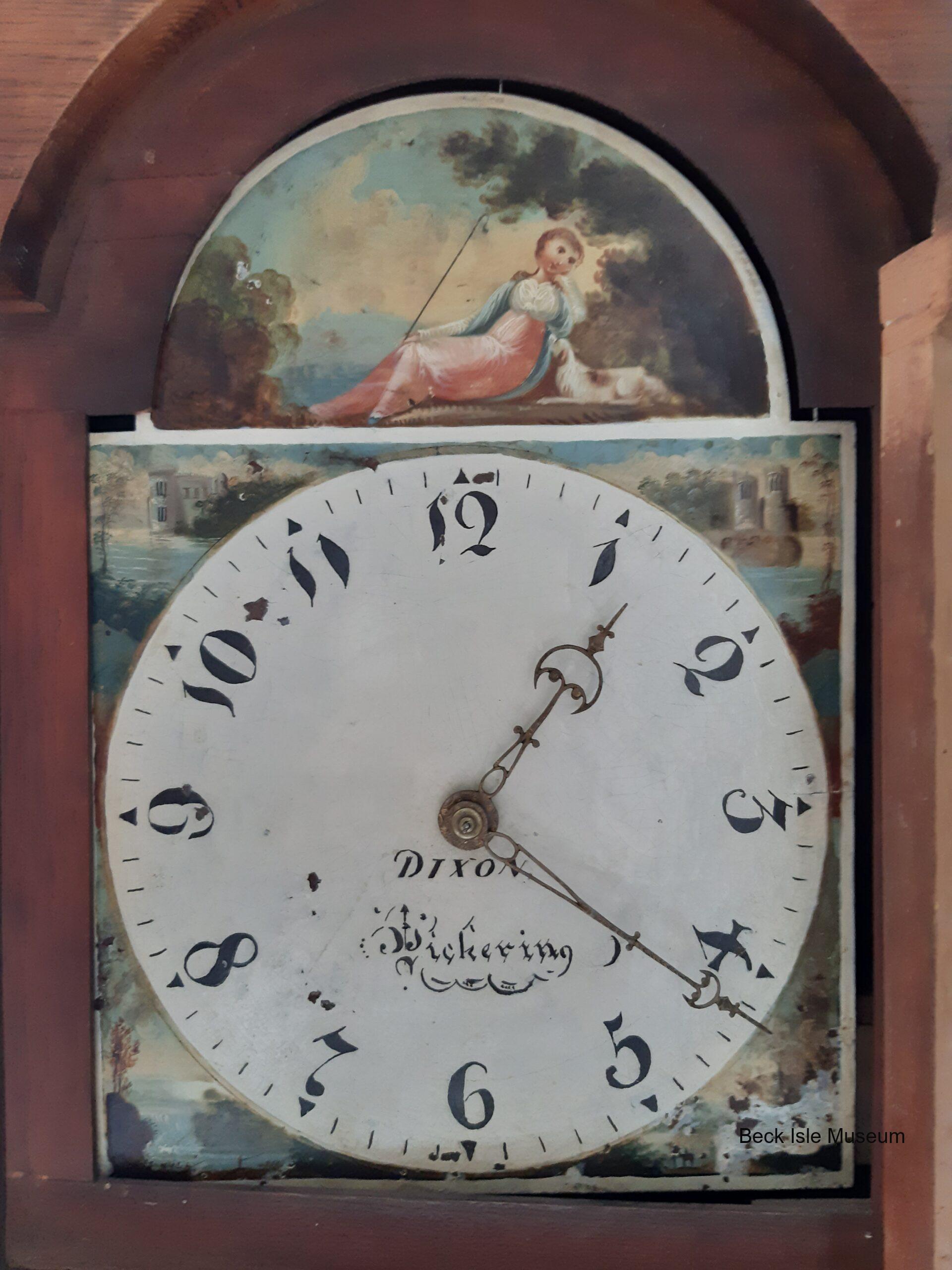 Victorian Long Case Clock
In the Victorian Parlour is a long case clock made by William Dixon who had a shop in Borogate, now Burgate, Pickering. The clock is dated 1822, it is not clear how long Dixon worked in Pickering but we know that he voted in York in 1807 and that he moved to Boroughbridge in 1840. The circular dial has the hours marked in Arabic, rather than Roman numerals and displays the maker's name. The clock face is decorated in a romantic style with idyllic rural scenes including a shepherdess, classical buildings and a waterfall. In 1923 the clock was found unwanted in a barn in Driffield by the neighbouring farmer, William Highgate of Heapfield Farm. He restored it and it remained in his family until 2010 when it was kindly donated to the museum. Its 30 hour movement was overhauled and the clock still keeps good time and chimes the hours. There were a number of watch and clockmakers in Pickering in the 19th century including William Kneeshaw, Burgate (1857-1866), Robert Stephenson, Marketplace (1823-1866) and Henry Zachariah, Eastgate (1840-1853).