Inspired by the 1780 English Christmas carol, we have compiled a festive treat showcasing items from our collection
On the first day of Christmas my true love sent to me…a patchwork made on Sunday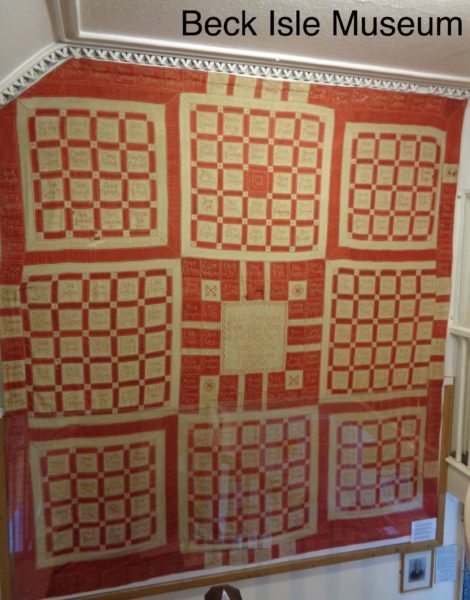 This quilt was made at the Sunday School of St Peter and St Paul͛'s Church over a number of years under the supervision of the Reverend G. H. Lightfoot. It is worked in red and white chain stitch on a Turkey red and cream cotton calico background. Church quilts of this type were often made as a way of fundraising for the church. The calico squares would be paid for by individuals who would then pay for names to be embroidered onto them. If a person did not have enough money to have the square done for them, they could buy a plain square and embroider it themselves. One of the names on the quilt is Annie Tomkins. She was maidservant to Reverend Lightfoot. When the Lightfoots died, Annie obtained the quilt. It was passed onto her daughter who donated it to the museum in 1988. The quilt is on display at the museum alongside another quilt made by the St Peter and Paul Sunday School one hundred years later.
Turkey red is the name given to the dying process which originated in the Levant (approximately where Syria is today), and which gave a bright and fast red colour – something the textile industry had been trying to perfect for many years. It was first used in Britain in the 1780's, in Manchester, and the technique was a closely guarded secret. By the end of the nineteenth century, Turkey red cloth was widely popular and hugely profitable, despite requiring a lengthy process to achieve the colour. The raw material was dyer's madder, or Rubia tinctorum, a plant root. Bull's blood was also used in the method but it is unclear what effect, if any, this had.
We have many items in the collection which have been dyed with the Turkey red process, and they are still vibrant today.
On the second day of Christmas my true love sent to me…two tobacco tins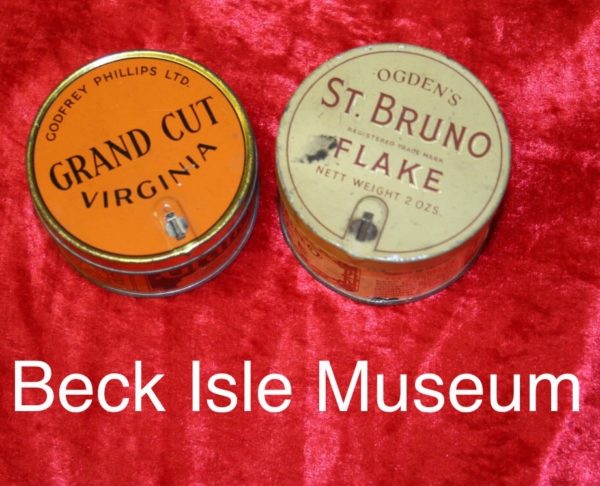 Branded tobacco tins first appeared in London in 1770 as a convenient way of packaging tobacco.  Early tins were prone to rust and had paper labels applied to disguise this.  Later tins were hand painted and then printed, first by direct printing and then by transfer and other methods.
These tins bear the names of Godfrey Phillips Ltd (left) and Ogden's Imperial Tobacco (right).  Godfrey Phillips was founded in 1844 in the Barbican in London, and was in existence until 1968, when it was acquired by the tobacco giant Philip Morris.  At its height, the firm had factories in Edinburgh, Bombay, Colombia, Melbourne and Wellington – all across the Empire.
Thomas Ogden founded his company in 1860 with a small shop in Park Lane, Liverpool.  Soon he had several premises and opened a factory in St James' Street.  By 1890 there there were no fewer than six Ogden's factories in Liverpool, and all operations moved to a new factory at Boundary Lane in 1899, where up to 2,000 people worked.  Ogden's was bought first by American Tobacco in 1901, and then sold to Imperial Tobacco just a year later.  Tobacco production ceased at Boundary Lane in 2007.  Sadly, the steam engines that powered the factory were not saved, but the company's Grade II listed office block has been turned into apartments, and affordable housing has been built on the site of the demolished factory.
On the third day of Christmas my true love sent to me…three fishing hooks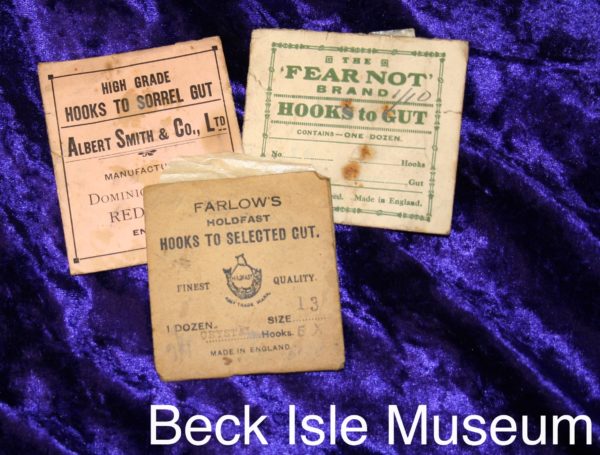 These three packets of fishing hooks would have been an essential part of a sportsman or woman's tackle bag.  On the left we have hooks with sorrel gut, made by the firm of Albert Smith & Co., who manufactured fishing gear at their Dominion Works in Redditch.  'Sorrel' refers to the colour of the gut: different colours were recommended according to the water conditions, and sorrel is best suited to angling when a flood is receding.
Farlow's is a very famous and top quality name in fishing tackle and still survives today, with a shop in London's Pall Mall and a Royal Warrant.  The company was founded in 1840 by two brothers, Charles and John, and continued as a family run business until being sold to the Drayton Group in 1964 following the retirement of Charles's granddaughter, Virginia. Farlow's is currently owned by Vladimir Rybalchenko, and is expanding into Russia.
On the fourth day of Christmas my true love sent to me…four collars starched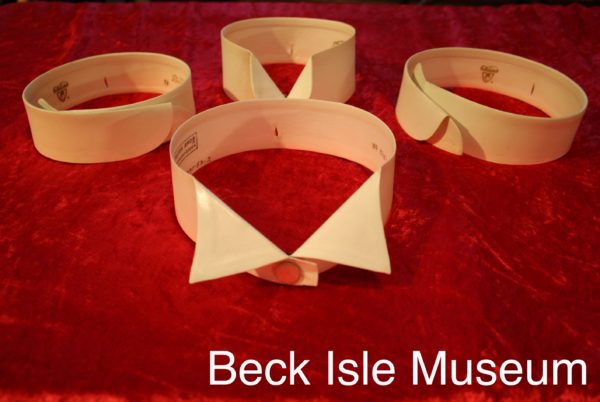 Detachable shirt collars were a practical invention: they allowed the collar of a shirt to be removed and washed, and also to be starched and folded into various shapes for different occasions.  Some collars were made of cotton-laminated paper or dipped in celluloid (an early plastic), and advertised as being waterproof.
It is a woman, Hannah Montague, who is widely credited with making the first detachable collars in Troy, New York in 1827.  Hannah's husband was a blacksmith and Hannah was tired of washing his shirts every day, so she snipped off the collar and washed it before sewing it back on.
These are just a few of the collars in our collection: one bears the name of Moss Bros, founded by Moses Moss in 1851 and surviving today as a ready made tailor and hire company.  The others are made by Radiac, the trade name of McIntyre, Hogg, Marsh & Co, which had its roots in Londonderry and Paisley.  They are now part of Tootal, and are mentioned in this interesting article which gives an insight into the Victorian shirt making industry and its working conditions:
http://carndonaghheritage.com/2018/11/17/the-history-of-shirtmaking-in-carndonagh/
On the fifth day of Christmas my true love sent to me…five gold baubles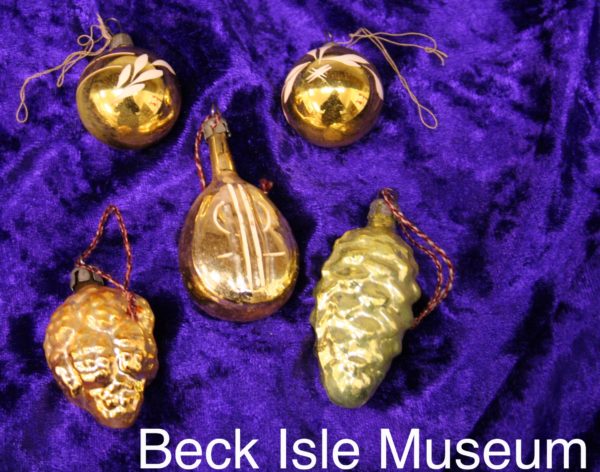 These beautiful glass Christmas baubles would not look out of place on a modern tree, but their origin goes all the way back to the late 16th century, when the Greiner family set up a glassware shop in Lauscha, in eastern Germany. Lauscha offered the perfect conditions for glassmaking: it is 2,000 feet above sea level in a forest, and the geology of the area meant fine sand and limestone were readily available.  Together with the timber for burning, all the raw materials for glass making were there.
The Greiner's shop was set up under licence from the Duke of Saxe-Coburg (a relation of Prince Albert, who was himself the younger brother of a later Duke), and the strings of glass baubles they sold for draping across trees proved so popular that the glass bauble industry was born, and Lauscha remains its centre to this day. In the Victorian period baubles took the shape of fruits and nuts, and were silvered with toxic lead or mercury.
Of course, modern glass baubles are no longer made with lead or mercury but many of the techniques have changed little over hundreds of years.  A local glassmaker has shared an interesting video of glass blowing here:
https://www.gilliesjonesglass.co.uk
On the sixth day of Christmas my true love sent to me…six soaps for washing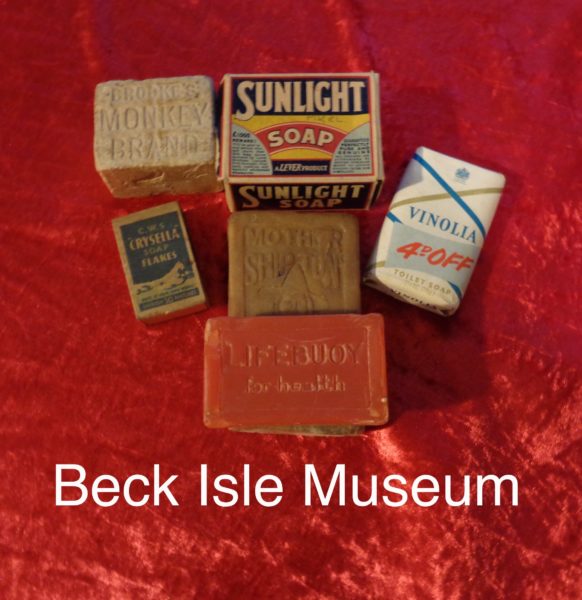 There's nothing mysterious, glamorous or tragic about a bar of soap – or is there?
The largest bar in this group is the Mother Shipton soap.  It's a well known name in North Yorkshire – but not for soap.  According to local legend, Mother Shipton was a fortune teller who lived in a cave at Knaresborough in the 16th century, and who foretold the Great Fire of London among other events.  The cave was the earliest paying tourist attraction in England, and is still worth a visit today.
Lifebuoy and Sunlight soaps were both manufactured by Lever Brothers, a firm founded in 1846 by William Lever and his  brother.  A grocer's son, William decided to focus on soap production and introduced Sunlight as the world's first packaged soap in 1884 – before then, soap was cut from a larger block.  In  1888, after outgrowing the original site, he built a new factory and a garden village called Port Sunlight for his workers on the Wirral in Merseyside.  Lifebuoy was created in 1895 and was originally a carbolic soap, containing a disinfectant compound called phenol which had previously only been available to doctors and hospitals.
Monkey Brand soap was manufactured in Philadelphia, USA, but in 1899 it was bought by Lever Brothers and was made at Port Sunlight.  It was a heavy duty scouring soap, designed to remove rust from pots and pans or to scrub tables and floors.
Vinolia soap was a British brand created in the late 19th century, before being bought by Lever Brothers in 1906.  In 1912, it was chosen as the soap used in first class accommodation aboard RMS Titanic, and the company took advantage of this honour to feature Titanic in their advertisements.  Other suppliers to Titanic decided to wait until the ship had reached New York before advertising their connection, thinking that the successful crossing would create an even bigger impact for their products.  Unfortunately, Titanic's tragic sinking meant they lost that opportunity.
On the seventh day of Christmas my true love sent to me…seven spectacles for seeing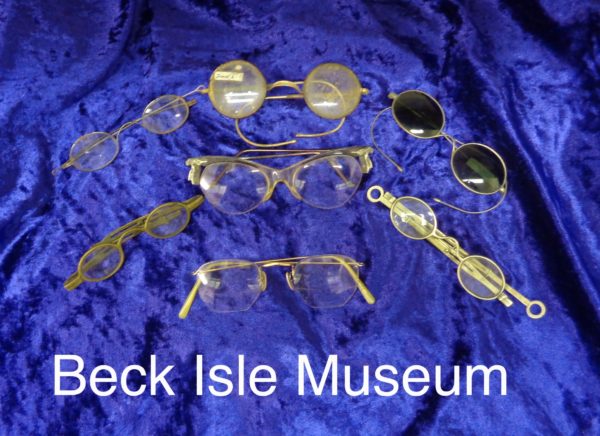 How on earth do you date a pair of spectacles?  Corrective eyepieces go back to Viking times, when rock crystals were ground into lenses.  The exact origin of spectacles is unknown, but they are widely thought to have been created in the 13th century in Italy.  It is very hard to pinpoint precisely when and by whom, since many of the historical records are not reliable and, unsurprisingly, many people want to lay claim to the invention.  We can say that the first known depiction of spectacles is in Venetian frescoes (wall or ceiling paintings) dated 1352, though the early examples were no more than two lenses balanced on the nose wth a hinged piece of metal.
Spectacles as we know them, with arms (or 'temples'), cannot be reliably dated to before 1730, when George II's optician, Edward Scarlett, showed them in an illustration on his trade card.  The earliest temples had spiral endings, but these were replaced by ring ends, which (like spirals) gave a large surface area and helped the spectacles grip on to the side of the head – not hook round the ear like modern glasses.  The larger the ring ends the earlier the spectacles: large rings indicate an early 18th century pair of glasses.  Rings also allowed the spectacles to be held by a finger when not being worn.
Temples then evolved through pivot and hinged sides, before straight sides and then ear curls, which appeared in 1885.
Similarly, the design of the bridge (the part lying over the nose) of spectacles changed over the years.  The earliest design was a simple 'C' shape, and suggests glasses made before 1750.  This was followed by a 'K' or 'X' shaped bridge from about 1810 to 1900, and various forms of 'W' or 'arch' bridges through the 18th century.
Have a good look at the spectacles in our photograph, and try to work out their ages.  You may wish to reach for your glasses first!
On the eighth day of Christmas my true love sent to me…eight money boxes for saving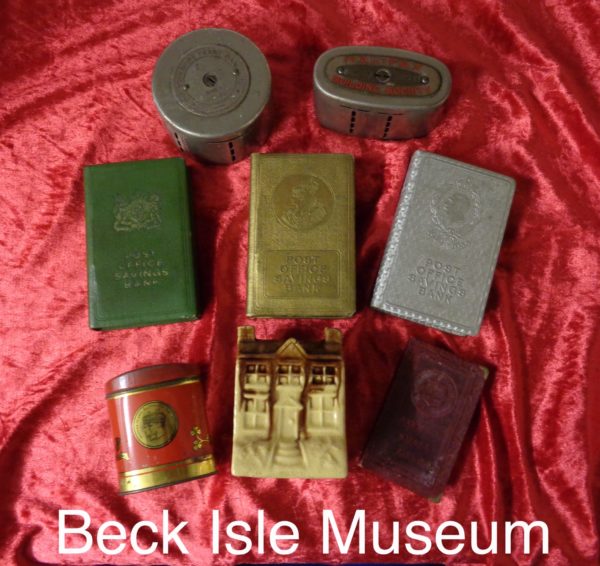 Yorkshire folk are famous for many things – their wit, their work ethic, and their thrift to name but a few.  The county has given us many of the biggest names in banks and building societies over the years, and two of them are represented by the money boxes in this photograph.
The Yorkshire Penny Bank (later Yorkshire Bank) was founded in 1859 by Colonel Edward Akroyd, the son of a wealthy textile family from Halifax.  The boom in Britain's textile industry had brought great prosperity but also squalid overcrowding to towns like Halifax, whose population tripled between 1801 and 1861.  Halifax's producers, unlike those of most other mill towns, retained some independence – taking their 30 yard 'pieces' of woven cloth to trade at the town's neoclassical Piece Hall (now restored and well worth a visit) – yet Akroyd recognised the great inequalities in society and set out to create a 'cloth cap' bank for ordinary people.  Only a penny was needed to make a deposit, and the idea was such a success that by the end of 1860 the bank had deposits of £9,777 13s 1d, or £22.5m in today's money. Today Yorkshire Bank is part of the Virgin Money group, with total lending of more than £70 billion.  Not bad for a penny bank!
Akroyd was not just a banker – like many of the great industrialists of his time he was a philanthropist, and wanted to make the lives of working people better.  Just as William Lever would later do at Port Sunlight, he built a model village, Akroydon, with help from another giant of Yorkshire savings, the Halifax Building Society.  The Halifax, as it later came to be known, was itself founded in 1852 at a meeting in the town's Old Cock Inn between a solicitor's clerk, textile manufacturer and a bank manager.  Like the Yorkshire Penny Bank, the aim was to enable working people to save and borrow money.  Today the Halifax is part of the Lloyds Banking Group, the UK's second biggest bank, with 30 million customers.
Look after the pennies, as the saying goes, and the pounds will look after themselves!
On the ninth day of Christmas my true love sent to me…nine ladies' hair accessories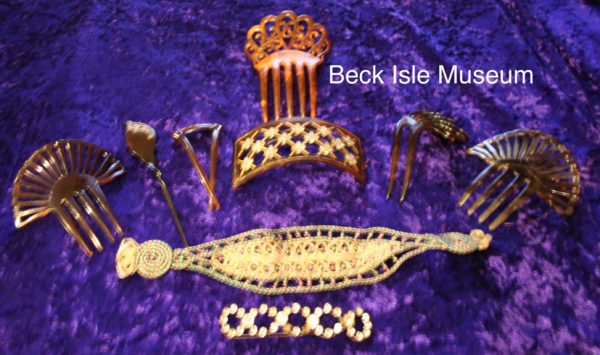 Beauty draws us with a single hair
– Alexander Pope
There are surely few things more emblematic of a woman's beauty and allure than tumbling, lustrous locks, and over time the way that hair has been worn, cut, coloured and styled has reflected not only the fashions of the day, but also social and political change in the wider world.  Vidal Sassoon's revolutionary 1965 five point cut and his introduction of 'wash and go' styles freed women from the chore of having their hair set on rollers and sitting under a hairdryer at a salon once a week.  At a time when women were gaining more independence, their hair embodied their new found liberation.  Hair can signal religion, sexuality, marital status, and wealth.  Indeed, it is a valuable commodity in its own right and in the past women sold their hair to wig makers.  In 19th century rural France peasant girls could have their locks auctioned to the highest bidder, and were shorn in public as soon as the hammer fell.  Today's fashionable hair extensions are often sourced from girls in poorer countries.
The 19th century  saw a range of hairstyles, progressing from centre partings with ringlets at each side which echoed the ideals of Greek classical beauty in fashion at the time and which had influenced so much architecture, through lower buns at the nape of the neck, and then to higher styles at the back of the head which were often adorned with elaborate combs, made from bone, horn or tortoiseshell and decorated with stones or enamel.  In 1848 a group of three painters calling themselves the Pre Raphaelite Brotherhood (PRB)  rebelled against the establishment's taste for dark Old Masters in art, and created their own style with revolutionary vivid colouring and a more naturalistic beauty, often with a strong political or moral subtext.  Their depiction of long, flowing hair – in stark contrast to the elaborate and formal hairstyles of society – left such a mark that 'Pre Raphaelite' hair is a term understood to this day, as illustrated by this piece from Sotheby's:
https://www.sothebys.com/en/articles/why-pre-raphaelite-hair-is-all-the-rage
If you are lucky enough to be in London soon, there is an exhibition of the work of Edward Burne-Jones at Tate Britain.  One of the later Pre Raphaelites, Burne-Jones was mentored by Dante Gabriel Rossetti who, along with William Holman Hunt and John Everett Millais, founded the PRB:
https://www.tate.org.uk/whats-on/tate-britain/exhibition/edward-burne-jones
On the tenth day of Christmas my true love sent to me…ten lords' spats and gaiters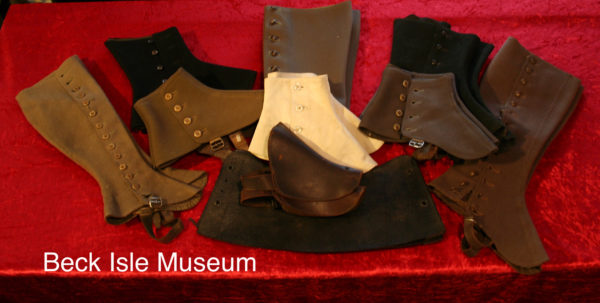 "Jeeves," I said, "those spats."
"Yes, sir?"
"You really dislike them?"
"Intensely, sir."
"You don't think time might induce you to change your views?"
"No, sir."
"All right, then. Very well. Say no more. You may burn them."
"Thank you very much, sir. I have already done so. Before breakfast this morning. A quiet grey is far more suitable, sir. Thank you, sir."
– P G Wodehouse
Spats (or spatterdashes), a short textile or leather piece covering the upper shoe and ankle,  developed from 18th century British military dress, when they were used to protect soldiers' footwear from mud.  Gaiters serve a similar purpose, but typically cover the entire lower leg.  Spats made their way into the fashionable man's wardrobe towards the end of the 19th century but the bright white variety were often thought of as brash or distasteful – as Jeeves would seem to agree!  By the early twentieth century they were worn by men and women, with some ankle boots even having a built in spat.  After 1920 their popularity declined, and they became reserved only for formal morning dress, eventually being replaced by two tone black and white brogues, most memorably seen on American gangsters,  Today the only civilians who wear spats are re enactors or Highland pipers, but the UK, Indian, Pakistani and Swedish armies still wear them as part of their ceremonial dress, as does the US Navy Honor Guard.
Gaiters have continued into modern usage and are now widely sold for walking, hiking, shooting and fishing.  The original materials of wool, felt and leather have been supplemented by newer, lighter, waterproof textiles , and they offer protection not just from mud, but from thorns and stones.  They are usually seen in dark, muted colours – perhaps 'quiet' enough even for Jeeves!
On the eleventh day of Christmas my true love sent to me…eleven pens for writing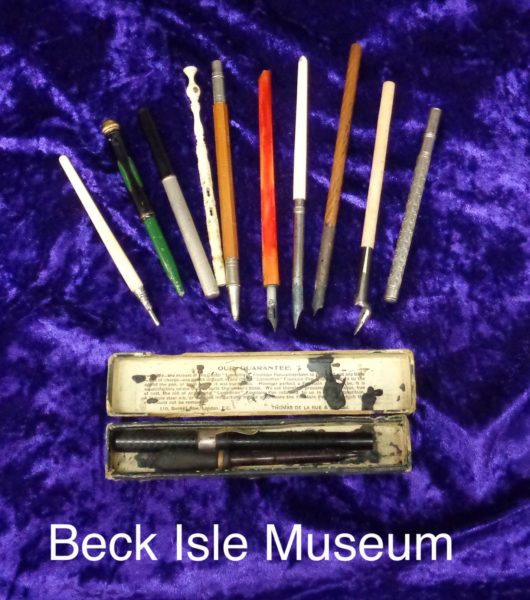 He writes so well, he makes me feel like putting my quill back in my goose
– Fred Allen
You may be reading this on a laptop or tablet, or even on your phone, but the chances are you still own – and use – several pens.  When man first started writing, about 5,000 years ago, he did so by carving into shells or tablets – made of clay.  These were heavy and cumbersome, so the ancient Egyptians began using reeds to write with pigment on papyrus, and later quill pens, made from the hollowed out shaft of a feather from a turkey, swan or goose. The Magna Carta was written with a quill, as was the American Declaration of Independence.  Quills were popular right up until the early 19th century, when the first metal dip pens appeared.  In 1884 Louis Waterman patented his capillary action fountain pen – unlike its predecessors, Waterman's pen used gravity and capillary action (like the movement of water up a straw) to reduce leakage.
The pen at the bottom of our photograph is a De La Rue Onoto pen, introduced in 1905.  It is a plunge pen,  whose reservoir is filled by inserting the nib into a container of ink and pressing down: this creates a vacuum into which the ink flows.  Onoto was the first to use this method and their pens were a great success, being chosen by the likes of Winston Churchill and Field Marshal Douglas Haig.  Onoto still manufacture pens today (Theresa May owns one), and there is a wonderful video here showing their production process, much of it unchanged over the last century:
https://www.youtube.com/watch?v=YYKu7NRJlnA
If that's all a bit too modern for you, why not have a go at making your own quill pen?  All you need to know is in this tutorial (adult help required):
https://www.youtube.com/watch?v=H1wyYh97LDk
On the twelfth day of Christmas my true love sent to me…twelve volunteers and visitors (and a few more!)
Thank you all!